Margaritas are a classic and tasty Mexican drink, whether you're pairing it with you favorite Mexican fare or hosting a festive party, margaritas are perfect for any occasion. With so many options between flavors, alcohols, and different mixer combinations, there is a margarita out there for everyone! But did you know there are many food recipes out there inspired by this fantastic drink? For true margarita lovers, these margarita recipes take that love affair to a whole new level.
Margarita Bundt Cake

This margarita cake recipe from Food.com is easy, yummy, and is the perfect union of alcohol and confection. This cake is the perfect dessert to serve at your upcoming Cinco de Mayo party. The lemon cake and pudding mixed with the limeade, triple sec, and tequila gives it the authentic margarita flavor. This dessert will have you thinking you're relaxing on a tropical Mexican beach, sipping on a fresh lime margarita. Drizzle on the tequila lime glaze and indulge in this amazing margarita inspired dessert.
Margarita Jell-O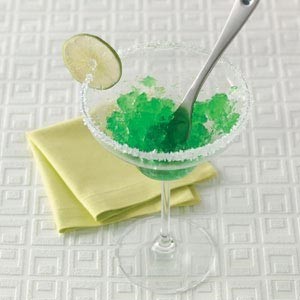 These molded margaritas from Taste of Home are a refreshing twist on the classic margarita and are perfect for parties and get togethers! The recipe is so simple and is an easy dessert option when serving a large amount of guests. After mixing the Jell-O with the limeade concentrate and tequila, pour into margarita glasses, and refrigerate. Presentation is key to give this treat a festive look, so add a salted rim and slice of lime and you'll have the perfect Mexican treat to enjoy at your next party or even just hanging out with friends or family.
Margarita Pork Kabobs
Sweet meets savory with these margarita infused pork kabobs from Food.com. The combination of margarita mix, tequila, coriander, and garlic makes an excellent marinade for the kabobs. Let the pork marinate for at least 30 minutes, and then thread the meat on the skewers. Grill over hot coals, while basting them in a butter and lime juice mixture every 15-20 minutes. This recipe is a must-try for margarita lovers and offers a unique twist and taste on a grilled favorite.
Margarita Fruit Salad
Get your serving of fruit in for the day while enjoying this margarita-infused fruit salad recipe from Food.com.  This recipe is so simple and so refreshing, and is perfect to serve at a party or summer cook out. This recipe suggests using pineapple, strawberries, bananas, and mangos, but you can substitute in any of your favorites or whatever fruits you have available! Just pour the mixture of margarita mix, honey, and lime juice over the fruit, chill for an hour, serve and enjoy! It's that easy–and delicious.
Margarita Chicken Tacos

Chicken tacos and margaritas are often enjoyed together, but this recipe from How Sweet Eats combines them in one tasty, unique dish. The chicken is marinated in an olive oil, tequila, lime juice, and coriander mixture and then coated in panko and baked to perfection. The crispy chicken can then be placed inside tortillas, and topped with an amazing strawberry avocado salsa. The mixture of fresh ingredients and flavor combinations offer a unique twist on a favorite Mexican dish.
If you are a margarita lover, you have to give these amazing and unique margarita inspired and infused food recipes a try. These recipes are great for get-togethers, parties, and even family dinners. And if you don't feel like cooking or want to enjoy an authentic margarita and Mexican meal, come visit Acapulcos Mexican Family Restaurant and Cantina. We have many locations throughout Massachusetts and Connecticut, and serve the best Mexican dishes and margaritas around! Check out our menus online and find an Acapulcos Restaurant near you.