Portuguese sauce gained its name due to reports it was originally from Macau, which was then a Portuguese colony. As with many traditional recipes the variations are common and often produce excellent alternatives. This is one great recipe for the famed Portuguese sauce. It is a colorful sauce which will add visual appeal to your creation as well as an amazing taste. Try the recipe below to make a must have Portuguese sauce!
A Hearty Tomato Sauce
The Portuguese sauce is made with garlic, sautéed onions tomato concassé, and parsley. This hearty tomato sauce is a great choice for your next party or delicious dinner meal. It can be used with many dishes as it is a versatile sauce. Try it on one of your favorite meats or with your next dish.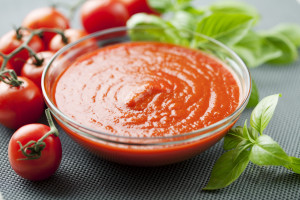 According to culinaryarts.com (the creators of this recipe) "tomato concassé (pronounced "conk-a-SAY") is a fancy culinary term to describe tomatoes that have been peeled, seeded and roughly chopped."
NOTE: This recipe calls for 1 quart of the classic tomate sauce, which is one of the five so-called mother sauces of the culinary arts. You could instead use 1 quart of basic tomato pasta sauce, which is easier to make.
The Ingredients

1 quart tomato sauce
¾ cup finely chopped onions
2 cups tomato concassé
1 clove garlic, minced
¼ cup (4 Tbsp) chopped parsley
Kosher salt, to taste
Freshly ground black pepper, to taste

One reason this is a great recipe is because it can be whipped together in about 5 minutes.

Prep Time: 5 minutes

Cook Time: 25 minutes

Total Time: 30 minutes

Keep a close eye on the sauce as it cooks to ensure it doesn't overcook.

Instructions
In a heavy-bottomed saucepan, sauté the onions until they're translucent, about 5 minutes.

Add the tomatoes and garlic and continue to sauté until the tomatoes are soft, about 10 minutes.

Add the tomato sauce, bring to a simmer and reduce for about 10 minutes.

Season with the salt and pepper and serve right away.
This recipe will make about 1 quart of delicious Portuguese Sauce. This is a great option to combine with many dishes including beefs, chicken, and steak. It is also a great choice for seafood like shrimp, salmon, or sea bass. You can even try it as a condiment with a burger or other lunchtime staple as unique sauce.
If you're not sure about your own version of this famous sauce, come try our Camarones Portuguese at Acapulos. This must try serving features large shrimp wrapped in bacon, ham, and cheese with a terrific portion of our own great Portuguese cream sauce. For more great foods and authentic Mexican cuisine check out our menus with locations in the Greater Boston Area, Cape Cod, Enfield CT, and Stratford CT.