You may have heard of tomatillos before—but let us stop you before your form any misconceptions. Tomatillo is not the Spanish word for tomatoes.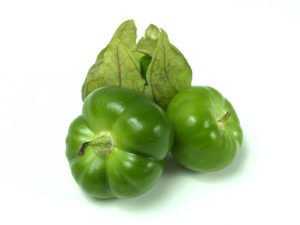 Tomatillos, also referred to as tomates verdes, look just like green tomatoes when their husk is peeled off, but are more closely related to the gooseberry. The inside flesh of the tomatillo is whiter and meatier than a tomato. The texture is crisp more like that of an apple. 
The flavor is difficult to describe, as it is a marriage of sweet, tart, and tangy. One thing is for sure:  they're a staple of Mexican cuisine because they're delicious and versatile! They can be consumed either cooked or raw. The husk surrounding the tomatillo must be removed before consumption, and it is important to rinse them in water to remove the sticky surface.
Perhaps the most common Mexican dish that uses tomatillos is salsa verde, where the tomatoes are replace by tomatillos to make a striking green salsa. The following recipe from I Want to Cook will teach you how to make a basic tomatillo salsa that can be eaten with tortilla chips or used as a topping for tacos or burritos. This salsa looks fancy but is actually simple to make and is sure to impress.
EASY TOMATILLO SALSA

(Makes 2-3 servings)

4 tomatillos, husked, rinsed and chopped
3 large garlic cloves, chopped
1/4 cup cilantro, rinsed and chopped
Pinch of cayenne pepper
1/2 teaspoon ground cumin
1-2 ounces of lime juice
Salt and pepper to taste

Step 1: Put the tomatillos and garlic in a 2-quart or larger saucepan and cook over medium-low heat for five minutes or until the tomatillos take on a darker green color. Stir often to prevent sticking. If you like your salsa spicy, add half a jalapeno or Serrano pepper.

Step 2: When the tomatillos have darkened, mash with a potato masher or whirl the ingredients in a blender or food processor.

Step 3: Transfer to a bowl and add the cilantro, lime juice and spices. Stir well, then taste and adjust seasonings if needed.
If your local grocery store doesn't sell tomatillos, you can find them at a specialty Mexican grocer or maybe even a farmer's market.
Still not sure about tomatillos? Come to Acapulcos Mexican Family Restaurant and try some in our delicious tomtaillo sauce yourself! We have 12 locations throughout Massachusetts and Connecticut, and serve traditional Mexican dishes in a family-friendly atmosphere. Visit us today!