When planning an exotic getaway with all the amenities of luxury, many people usually look to Mexico.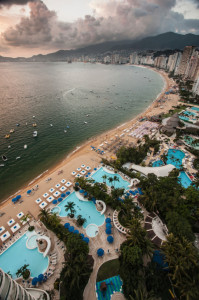 Mexico is famous for their all-inclusive resorts, beautiful beaches, and timeless tourist attractions. However, each city has a unique feel to it. Cabo San Lucas is where people go to relax on the beach. If you are the adventurous type who would rather do anything but lay on the beach, Acapulco is for you. Its city has a high energy and youthfulness to it that will make anybody feel 21 again. Along with the beautiful resorts that travelers have come to expect from Mexico, Acapulco has plenty of extra-circular activities that are sure to pump your adrenaline.
Attractions
When visiting Acapulco, there are plenty of places to go, and activities to do. So how do you choose what is best for you? For a family, there is the Magico Mundo Marino. It is a huge aquarium that has much more than just looking at fish. Within this humongous attraction there is a freshwater, as well as a saltwater, swimming pool for the humans, several water sports, and slides that go into the ocean! La Quebrada is a show unique to the area of Acapulco. The cliffs that surround that Acapulco Bay are a dare-devil's paradise. However, La Quebrada restricts the jump zone to locals, where they will put on a breathtaking show for you.
These attractions can be a treat for families and couples alike. But for the young adult in all of us, there are some grown up activities that may involve a margarita or two.  Acapulco has tons of discothèques in the city that are all worth checking out if you love high energy music and dancing. The top rated club in the city is the Palladium. It has a capacity of up to 1000 people, and has floor-to-ceiling windows, giving a breathtaking view over the Bay while you get your groove on.
If you are a historical buff, the "Old Acapulco" is sure to entertain you. In the Zocolo, which is the main square, there is the breathtaking Aztec architecture of Nuestra Senora de Soledad cathedral. The most historic building is the San Diego Fort, which was built in the 1500's to protect the city from pirate attacks. For art lovers, the Dolores Olmedo house is adorned with paintings by Diego Rivera.
Adventures
While all of these attractions are fun for the typical tourist, thrill-seeking visitors to Acapulco will want something a little extra. How does swimming with dolphins in their natural habitat sound?  Delphines Paradise can get you up close and personal with sea life outside of the aquarium. There are countless other activities that you can do in the ocean to interact with sea life, such as snorkeling, scuba diving, and chartering a boat for some deep sea fishing. For those who would rather interact with human life, Playa Condesa beach offers plenty of bars and funky restaurants with unique, appealing drinks, and mingling with people from all walks of life. However, even with all these people, Acapulco's charm makes it so that it never seems crowded! Apart from sight-seeing and people watching, Acapulco Bay offers high tempo activities like jet skiing, parasailing, and  horseback riding on the beach. For land lovers, there are plenty of luxury golf courses to keep you occupied for the majority of your stay.
Restaurants
For foodies, the traditional Mexican food that you would expect from Mexico can definitely be found in the many restaurants of Acapulco.  Zibu is one of the top ranked eatery in the area. It has traditional Mexican food, along with a unique infusion of Mexican and Thai food that they call "Mexthai" cuisine. Zibu, as well as many of the other restaurants in the city, offer amazing food as well as a brilliant, panoramic view of Acapulco Bay.
If traveling to Mexico is not in your budget at the moment, you can get the next best thing at Acapulcos Mexican Restaurant and Cantina. The authentic taste of Mexico is here, at all 12 of our locations throughout Massachusetts and Connecticut. You may not get the sun and the sand, but you will get the salt on the rim and the flavorful food.
What is your favorite part of a destination vacation?