Whether or not you are following the teams that are in the Super Bowl this year, football can be a great excuse to throw a party either way.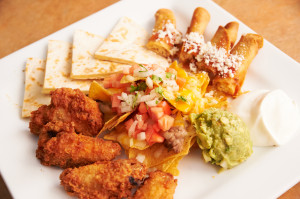 What other time will you have a reason to drink beer and indulge on high-calorie foods on a Sunday?
And what better cuisine to go with your Super Bowl party than Mexican apps? While Mexico may not be involved in American football, many popular Mexican food apps pair perfectly with beer and are loved by all. The best Super Bowl foods tend to be those that include a deep fryer or something that is scoopable via tortilla chip. Super Bowl Sunday is the day to shed any New Year's resolutions and indulge in the tastiest appetizers.
Guacamole
Guacamole may just be the most popular dip served at football parties. While a simple guacamole can be made from a combination of avocados, lime juice, garlic, and salt, there's no reason not to spice things up a bit for your guests. Tropical fruits go well in guacamole, including pineapple, papaya, and mango. Or, you could go for something more savory by adding jalapeños and red onion.
Nachos
If any food was considered "the" Super Bowl snack, it would probably be nachos. Turn your nachos into a supreme version by adding refried beans, shredded steak, and tons of cheese over a bed of tortilla chips and pop it all in the oven until golden brown. Then top with pico de gallo, guacamole, and sour cream.
Quesadillas
Quesadillas are the perfect Super Bowl party app because they are so simple to make and you can put just about anything inside them. Simply fold a large flour tortilla in half, fill with cheese, and heat in a pan over medium heat until golden brown, and then flip. Fill with buffalo chicken for the ultimate indulgence or add spinach and sweet potato for vegetarian guests. Slice these into small pieces for optimum sharing.
Chipotle Wings
Nothing says Super Bowl like chicken wings, and what better way to serve them than in a spicy Mexican style! Instead of using buffalo sauce, which typically comes with a lot of heat but little flavor, use real canned chipotle peppers in adobo sauce. Mix the peppers with a little lime juice and butter, and pour this topping on the wings once they are fried for one hot dish.
If all of these recipes sound like a lot of work, never fear! Acapulcos Mexican Family Restaurant has a number of delicious Mexican appetizers that will please any palate. We would love to host your Super Bowl party, and we are equipped with the big screen TVs to do so. Visit one of our locations throughout Massachusetts and Connecticut today!
Which appetizers do you tend to cook most often for Super Bowl parties?