Nothing complements a tortilla chip quite like the gooey goodness of queso dip.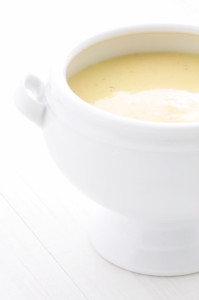 And we're talking about real, Mexican queso dip, not that orange stuff somehow always seems to find its way onto nachos. Real Mexican queso is white, not the color of Kraft singles, and it doesn't taste like it has started to become one with the plastic bottle in which it is mass produced. The best kind of queso dip is often referred to as "restaurant quality", though not all restaurants serve their dip white. To get the best queso experience, you must stray away from orange and seek out traditional Mexican eateries that will serve their dip white.
Unfortunately, we can't share our personal secret recipe with our readers, but here is a comparable recipe that we found for queso dip on Food.com.
Queso Blanco Mexican White Cheese Dip

Ingredients

1 cup monterey jack cheese or 1 cup asadero cheese or 1 cup chihuahua cheese, shredded fine

4 ounces green chilies

1/4 cup half-and-half

2 tablespoons onions, chopped fine

2 teaspoons ground cumin

1/2 teaspoon salt

1 serrano pepper, chopped fine (optional)

1 tablespoon fresh cilantro, chopped fine (optional)

Directions:

1. Put all ingredients in a double boiler and heat on medium.

2. Cook until melted and well blended, stirring occasionally.

3. Serve with fresh tostadas or hot flour tortillas.
The type of cheese used in queso dip is always the biggest source of argument among chefs. While the flavor of monterey jack is typically considered paramount, it's an American cheese so it is not considered authentic.
However you choose to make your queso, it is important that you keep it heated while guests indulge. The queso will start to solidify when left to rest, so it's a good idea to serve it in a crockpot or use a warming tray. If you have a candle heater or coffee warmer lying around, these work great for keeping your serving dish warm!
If you are still struggling to make a queso that is up to your standards, feel free to visit Acapulcos Mexican Family Restaurant. We serve up authentic Mexican food daily, and we've heard that our queso is some of the best around. Visit one of our locations throughout Massachusetts and Connecticut today.
Do you prefer white queso dip?