Restaurants are notorious for serving deceptively unhealthy food. However, eating out does not have to mean ruining your diet, as long as you know how to order.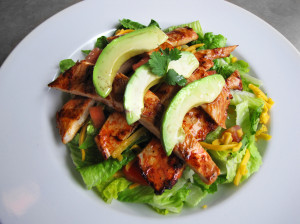 With the right tips for eating healthy at restaurants, you can still dine out and not concern yourself with the nutritional value of what you are eating. Aside from the obvious nutritional guidelines, such as avoiding anything covered in cheese or wrapped in bacon, we offer you the following insider tips for eating healthy at restaurants.
Tips for Eating Healthy at Restaurants #1: Dressing
Dressing can be the culprit of an unhealthy salad. A Caesar salad, for example, may appear to be wholesome, but that dressing has a ton of fat, not to mention the hidden calories in the cheese and the croutons. Any dressing that is creamy will pack a ton of calories, so be sure to opt for a light vinaigrette instead. Order any dressings or sauces on the side, because many restaurants tend to add on a lot more than necessary, and it is often where the concealed calories lie.
Tips for Eating Healthy at Restaurants #2: Sides
It happens all the time—you order a delicious and light veggie wrap, but then the restaurant serves it with a mound of french fries or chips, and it's all downhill from there. You might tell yourself that you'll only have a couple of fries, but be honest… how often does that really happen? Sides tend to carry a majority of the calories in your meal. Ask your server if you can substitute less healthy sides with mixed vegetables or a side salad.
If your server asks "would you like to add x for only 99 cents?" always say no. You don't need the extra food, and add-ons are typically loaded with calories.
Tips for Eating Healthy at Restaurants #4: Portion Control
Perhaps one of the main culprits of unhealthy eating at restaurants is that portion sizes tend to be much bigger than necessary. Over in France, portions are much smaller and doggie bags don't even exist. But here in the Unites States, sometimes you order a meal and you can eat the leftovers twice for lunch. When food is placed in front of us, most will not stop when we are full, but instead when the food is gone, or if it hurts to eat any more.
One way to control your portions is to ask for a half portion or order an appetizer as your meal. Excluding sides is another way to keep your portions smaller. Be sure to ask for a to-go container when you begin to feel full, and then put the fork down until it arrives.
Tips for Eating Healthy at Restaurants #5: Drinks
It may be commonplace to order a soda when dining out, but those calories should be reserved for your meal. Water is the best alternative, and asking for a lemon slice will add a bit of flavor. If you are looking for something a little more robust, see if you can order unsweetened iced tea.
Cocktails and beer are also good ways to load on the calories when dining out. Stick to drinking wine or a cocktail that is devoid of sugar—such as a martini or a cosmo.
Here at Acapulcos Mexican Family Restaurant, we are dedicated to serving the freshest ingredients to our guests. Our food is made fresh daily, and we offer a number of healthy options so that you can eat well while also sticking to your diet! We would be happy to help you eat well while you are dining with us, so stop by one of our locations throughout Massachusetts and Connecticut today!
What are your favorite healthy dishes to eat at a restaurants? Please share in our comment section below!