For those who enjoy eating Mexican food, fresh salsa is a quintessential Mexican dish that is both tasty and easy to make.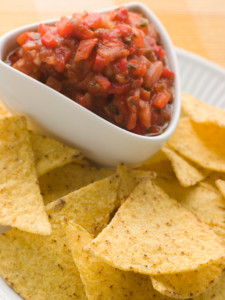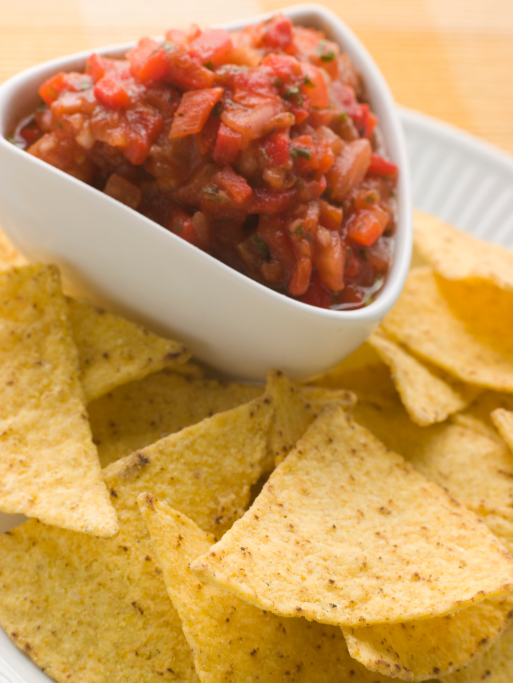 Salsa can easily be made one of two ways– with canned or cooked ingredients, or completely fresh. A fresh salsa recipe allows you to gain all of the nutrients found in raw food that can be cooked out in a canning process. Making a fresh salsa recipe from local ingredients is the best way to ensure that your salsa is nutritious and contains a vibrant flavor.
When making fresh salsa, the final product can often-times be a bit soupy and inconsistent throughout. The secret to a scrumptious fresh salsa recipe with the right consistency all comes down to the preparation of the tomatoes. A Healthy Slice of Life provides a fresh twist on the classic salsa recipe below.
Tomato Prep

Start off with buying 10 fresh Roma tomatoes (preferably from a farmers market) although the grocery stores Romas will suffice.
Slice the ends off the tomatoes and cut each tomato in half.
Juice each tomato by rotating the tomato around in your hands, the idea is to get most of the juice and seeds out of the tomato. (Don't worry if some seeds remain no biggie!).
Continue the process until the tomatoes literally look a little "sad".
Toss the tomatoes into a food processor and pulse 4-6 times until the tomatoes are thick and chunky, (do not go overboard, you want this consistency).

Ingredients

2/3 cup onion, diced
2 garlic cloves minced
1/2 tsp. of sugar
1 tsp. of cumin
1 cup of cilantro
Juice from one lime
1/2 tsp. of salt
1 jalapeno pepper, seeded and diced
1 poblano pepper, seeded and diced

Directions

Put all the ingredients in the food processor with the tomatoes
 Pulse 3-5 times until the salsa is well blended yet still chunky
This fresh salsa recipe is quick and easy to make, and also a good way to show off to your friends and family. The recipe may be modified depending on the preferences of your guests. If your company enjoys a spicier concoction, dice up another jalapeno and toss it in.
Once the salsa is made, it can be eaten right away or stored in the fridge for no more than 5 days. Do not make the mistake of attempting to store it over an extended period of time. Canning tomato salsa is not the same as making it to eat the same day or a few days after.
If you're in the mood for Mexican food, we would love for you to come visit Acapulco's Mexican Family Restaurant's extensive menu of mouth watering dishes and cuisines! While this isn't our fresh salsa recipe (we wouldn't want to give away any of our secrets!), our customers are constantly telling us that our salsa  is one of the best around.
Are you willing to try something new and make this easy fresh salsa recipe?