True salsa lovers appreciate the freshest and tastiest of salsas, and canning tomato salsa is one of the best ways to keep that freshness all winter long.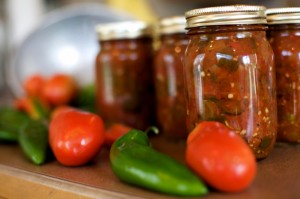 While it can sound intimidating if you haven't done any canning before, it isn't difficult at all. Canning tomato salsa is worth the effort in order to eat fresh throughout the winter.
So, what about the wide variety of jarred salsas available in the market? Well, yes, I'm sure we all have one or two go-to jarred tomato salsas. But we can probably also agree that homemade salsa is by far the best, and canning tomato salsa at home is one way to indulge.
The key to canning the freshest tomato salsa is doing so when the tomatoes are in peak season. Also be sure to find a canning recipe that is tried and true, because canning tomato salsa improperly can cause it to spoil. And peeling the tomatoes first is worth the effort. Canning tomato salsa is not the same as making it fresh to eat the same day. The skins will become tough and chewy once canned.
Aside from fresh ingredients, all you really need to purchase when canning tomato salsa is a water bath canning pot and canning jars with lids and lid rings. The article below from Wise Geek discusses some of the best tips for canning tomato salsa.
What Are the Best Tips for Canning Tomato Salsa?

Homemade salsa can be more frugal and flavorful than commercial jarred salsa. Many cooks prepare and can large batches of fresh salsa so that they can eat it throughout the year or give it as gifts. Expert tips for canning tomato salsa help consumers prepare salsa that has a pleasant taste and is safe to eat after canning. Some tips for the best tasting salsa include selecting meaty tomatoes, removing tomato skins completely and efficiently and mixing the correct ratio of vegetables to spices. Safety tips for canning tomato salsa include adding sufficient acidity to the salsa, ensuring that the vegetables are acidic enough to be properly preserved, avoiding certain additives and processing the jars for the appropriate amount of time.

The tomatoes that make the best salsa are fleshy, with minimal water content. Many experts recommend Roma tomatoes for their thick texture. Other varieties that are frequently used when canning tomato salsa include beefsteak and better boy tomatoes. The tomatoes should be ripe and should not have visible signs of decomposition or damage.

The salsa will have a more desirable consistency if skins, seeds and cores are removed prior to processing. Skins can be easily removed by blanching the tomatoes. To blanch, place batches of tomatoes in boiling water for about 30 seconds. Immediately submerge the boiled tomatoes in a bowl of ice water. The skins will easily peel off, and the peeled tomatoes can be sliced, cored and seeded, chopped, then drained of excess water.

Seasoning mixes can be prepared from scratch or purchased pre-mixed. Ingredients that are frequently used in the mixes include garlic, chili powder, salt, pepper, sugar and cilantro. Vegetables such as peppers or onions can be dehydrated and included in seasoning mixes or added fresh into the recipe. Many cooks taste the salsa as they are preparing it, adding spices until the desired flavor is reached. Several drops of hot pepper sauce can be added to most recipes to create a spicy salsa.

Homemade salsa is dangerous to consume after several weeks if it has not been properly canned. Most tomato salsas can be canned by being submerged in a boiling water bath for about 30 to 45 minutes. Cooks who wish to can salsa should carefully follow a tested recipe that is designed for canning. These recipes will call for a combination of vegetables that include enough acidity for safe preservation, and they usually will call for an added source of acid such as vinegar or lemon juice. It is important to look carefully at the listed products in the recipe, because some vinegars contain different levels of acidity, and it is essential to use one that is acidic enough to preserve the salsa.

Sanitize all salsa jars prior to canning tomato salsa by running them through a dishwasher or hand-washing them with soap and hot water. Boil lids to ensure that they are clean. Avoid adding extra ingredients such as cornstarch or flour in an attempt to thicken salsa prior to canning it. Jar lids should be checked 24 hours after canning. If they have not sealed according to the sealing characteristics of the particular brand of jars, the cook should consume or discard the salsa within one week of refrigeration.
A quick way to test if the jars have sealed properly is to press on the center of the lid. If it gives even a little, the jar hasn't been properly sealed. If this is the case, refrigerate your tomato salsa and eat it within 5-7 days.
A good resource to keep at your disposal when canning tomato salsa or any other foods that you enjoy is the USDA's National Center for Home Food Preservation. The information and recipes provided on their website have been proven to be the safest and should be followed as is.
You may substitute different peppers when canning tomato salsa. However, do not add additional peppers (or onions or garlic) since they will throw off the acidity levels. Using less is okay.
For the same reason, when canning tomato salsa, do not use vinegar in place of lemon juice. Lemon juice is more acidic, so use the amount of lemon juice and the amount of tomatoes that the recipe calls for. Do not use less.
When fresh tomato salsa ingredients are hard to come by in your own kitchen, one suggestion we hear over and over again is to simply stop by Acapulcos Mexican Family Restaurant & Cantina. Our tomato salsa is made fresh daily and receives the highest of praise. Stop by any of our 12 locations throughout Massachusetts and Connecticut to enjoy fresh authentic Mexican food and indulge in tomato salsa and chips. We are here for you 7 days a week.
Have you ever canned your own tomato salsa? Have you attempted canning of any sort? What has been your experience? We and our readers would love to hear about it!