Chocolate is one of the coveted foods today. Chocolate can fix a bad mood, provides energy, and contains iron. Did you know that during pre-Colombian times, chocolate was not eaten, but it was drunk? The Mayans and Aztecs added vanilla and herbs to the chocolate drink to make it less bitter. Once the Europeans arrived with sugar, chocolate evolved. Adding cinnamon was next. Nowadays, people use chocolate in all sorts of forms, especially in desserts.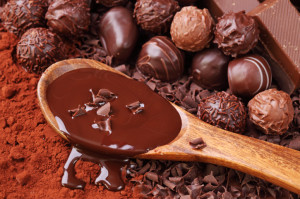 Are you in the mood for chocolate now, but still craving that spicy Mexican kick? Spicy chocolate cupcakes are everything that you are looking for. They are an irresistible creation made out of chocolate and spice. They are filled with Nutella chili chocolate ganache and topped with a chili cream cheese frosting.
If the combination of sweet and spicy interests you, below is a recipe from My Kitchen in the Rockies for you to try. The prep time takes about 40 minutes and the cook time takes about 25 minutes. This recipe serves 12.
Ingredients

For the cupcakes:

2 cups sifted cake flour
½ cup unsweetened cocoa powder
½ teaspoon ground red pepper flakes (add more if you like it spicier)
1 cup sugar
2 teaspoons baking powder
1 teaspoon vanilla
⅔ cup vegetable oil
2 large eggs
1 cup milk

For the ganache:

6 ounces (170 g) good dark chocolate, chopped
½ cup (146 g) Nutella
3 Tablspoons (43 g) unsalted butter
⅔ cup (158 ml) heavy cream
1 teaspoon ancho chili powder

For the frosting:

1 teaspoon ancho chili powder
⅛ teaspoon cayenne pepper
½ teaspoon ground cinnamon
2 cups confectioners' sugar (original recipe calls for 4 cups)
1 package, 8 ounces (228 g) cream cheese, at room temp.
8 Tablespoons (114 g) unsalted butter, softened
½ teaspoon (2.5 ml) vanilla extract, clear
cinnamon sticks for decoration

Instructions

For the cupcakes:

Preheat oven to 375F. Grease and flour 24 muffin cups.
Mix and sift flour, cocoa, sugar, pepper and baking powder together into a bowl. Add oil, vanilla, eggs, and milk; beat for 30 seconds with a mixer at low speed, scraping the bowl frequently. Beat for 7½ minutes more with a stand mixer at medium speed or 6 minutes with a hand mixer at high speed, scraping the bowl 4 – 5 times.
Pour batter into pans. Bake for 18 to 20 minutes or until a toothpick inserted in center comes out clean. Remove muffins from oven and cool in pans for about 12 minutes. Remove muffins from pans and finish cooling on a wire rack.
Use an apple corer to remove some of the center of the cupcake for the filling.
Altitude adjustments: 6,500 – 8,500 feet: Decrease baking powder to 1¾ teaspoons. 8,500+ feet: Decrease baking powder to 1½ teaspoons. Increase milk by 1 tablespoon.

For the Ganache:

In a small pot bring the cream to a boil. Take form the heat and add chocolate, Nutella and butter. Let sit for a few minutes.
Slowly stir until everything is well incorporated.
Mix in the chili. Add more chili (I added ground red pepper flakes) to adjust the spiciness to your liking.
Let sit and cool for 30 minutes before filling the cupcake.
Fill the cupcake using a small spoon with ganache until the ganache reaches the rims of the top of the cupcake.
The cupcakes are now ready to be frosted.

For the frosting:

In a bowl sift together the chili powder, cayenne pepper, cinnamon and confectioners' sugar. Set aside.
In a stand mixer with the paddle attachment beat the cream cheese and butter on medium speed for about 4 minutes.
Mix in the vanilla extract.
Add the sugar mixture to the cream cheese mixture and mix together.
The frosting is now ready to be piped onto the cupcakes. Use a bigger tip for bigger swirls. Decorate with a cinnamon stick.
Now that you know how to make spicy chocolate cupcakes, you can wow your friends and family with a spicy dessert that has Mexican inspiration. And if you're a fan of Mexican food, then come to Acapulcos Mexican Family Restaurant & Cantina. We serve authentic Mexican food, and our desserts, including deep fried ice cream and sopapillas, are delicious. Stop by our locations in Massachusetts and Connecticut to try them today.