Everyone likes a tasty Mexican Soup. Whether it is a simple black bean soup, a Chicken-Tomatillo Chili, or the elegant sopa de chile ancho (pureed chiles with tortilla strips, julienned pasilla chile, a dash of crema, and a few pieces of avocado), Mexican soups are often incredibly satisfying and not too filling.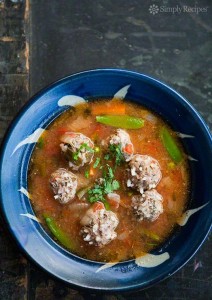 One of these fantastic soups is Sopa de Albondigas, which we offer as an appetizer.  Sopa de Albondigas translates to meatball soup, which is an accurate description of the soup. The meatball soup originated in the Middle East. The area, now Southwestern Europe, was under Islamic control, and the name "albondigas" has Arabic roots, as "al-bunduq" means "the hazelnut" in Arabic, and appears to denote meatball due to the two's similar size and shape.
Interested in making your own Sopa de Albondigas? Check out this recipe from Simply Recipes!
Albondigas Soup
Ingredients

2 Tbsp olive oil
1 large onion, chopped
1 large garlic clove, minced
3 quarts of chicken stock or beef stock OR water OR a mixture of both (we usually use half stock half water as the meatballs will create their own stock)
1/2 cup of tomato sauce
1/2 lb of string beans, strings and ends removed, cut into 1 inch pieces
2 large carrots, peeled and sliced
1/3 cup of raw white rice
1 pound ground beef
1/4 cup of chopped fresh mint leaves
1/4 cup of chopped parsley
1 raw egg
1 1/2 teaspoon salt
1/4 teaspoon black pepper
A dash of cayenne (optional)
1 1/2 cup of frozen or fresh peas
1 teaspoon of dried oregano, crumbled, or 1 Tbsp fresh chopped oregano Salt and pepper
1/2 cup chopped fresh cilantro

Directions

Heat oil in large heavy-bottomed pot (5-qt) over medium heat. Add onion and cook until tender, about 5 minutes.
Add the garlic and cook a minute more. Add broth mixture and tomato sauce. Bring to boil and reduce heat to simmer. Add carrots and string beans.
Prepare the meatballs. Mix rice into meat, adding mint leaves and parsley, salt and pepper. Mix in raw egg. Form mixture into 1-inch meatballs.
Add the meatballs to the simmering soup, one at a time. Cover and let simmer for 1/2 hour. Add the peas towards the end of the 1/2 hour.
Add a few pinches of oregano and sprinkle with salt and pepper, and a dash of cayenne, to taste. Garnish with chopped fresh cilantro.
Just follow those five steps and viola: you have a delicious bowl of Sopa de Albondigas! If you want to learn recipes for more Mexican Cuisine, check out our blog. Or, if this seems like too much effort, stop into Acapulcos so we can make Sopa de Albondigas and more for you! We have locations in Massachusetts and Connecticut.