Tacos asadas, or steak tacos, are a tasty way to change up from the usual ground beef filling. Switching it up with steak adds a great source of protein as well as an opportunity for different flavors and seasonings. These Mexican steak tacos will add some juiciness and texture to your tacos and go well with some tortilla chips and salsa for a dinner party.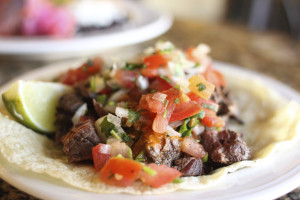 Tacos de Asada Recipe
This great steak tacos recipe from Better Living will have you feeling like you are in an authentic Mexican restaurant!
Ingredients

2lbs Flank or Skirt Steak
Corn Tortillas or Flour Tortillas
Queso Fresco, Panela or other crumbing Mexican cheese
Pico de Gallo or Salsa
Chopped Onions
Cilantro
Slices of Lime

Steak Marinade

5 Cloves garlic, minced
1Cup fresh cilantro leaves and stems, chopped finely
1 Jalapeño or serrano, seeded and minced (Use 1/2 for less heat)
2 Freshly squeezed limes
1 Freshly squeezed orange
1-2 Tablespoon Tequila or Mexican Beer (optional)
2 Tablespoons white vinegar
1/2 Cup olive oil
1 Teaspoon cumin
1/2 teaspoon black pepper
1 teaspoon salt
Feel free to add and substitute your own flavors to the marinade
Directions
1– In a food processesor or blender, mix all marinade ingredients. Blend until smooth.

2 – Place the steak in a glass or nonreactive baking dish and pour the marinade over the steak. Cover and marinate for 2-8 hours or overnight.

3 – For best results preheat an outdoor grill. The oven broiler or a cast iron skillet can also be used. Place steaks on grill, season again with salt and pepper. Cook approximately 4-6 minutes per side.

4 – It is best to take steak off the grill just slightly under your preferred temperature. It will continue to cook while resting. Let it rest a few minutes tented loosely with aluminum foil. Once ready, slice steak into slices about 1/8-1/4 inch thick against the grain.

5 –  While steak is cooking, warm tortillas for about 30 seconds on each side in a skillet or on the grill. Stack the tortillas and move to the side or wrap in foil to keep warm.

6 – To assemble tacos add slices of steak, chopped onions, cilantro, pico de gallo and cheese to each tortilla. Finish with a squeeze of fresh lime and a dash of your favorite hot sauce.

7– As they say in Mexico, Buen Provecho! (Enjoy!)
This recipe serves 4-6
These authentic tacos asadas are a great option for a fun, easy, and flavorful meal. For more tasty authentic Mexican dishes, visit our blog or if you don't feel like cooking, come to any one of our many Acapulco's Mexican Family Restaurant & Cantina locations across Massachusetts. You will love the taste of our authentic cuisine, see you soon!