Can you dine at a Mexican restaurant and still eat a healthy vegetarian diet? Absolutely!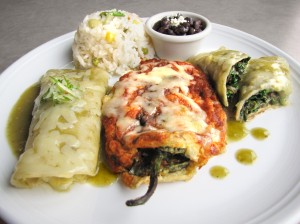 The main staples of the Mexican diet are vegetables and legumes!
For starters, at Acapulcos, we start you off with a carafe of house-made all-natural salsa (that gets rave reviews if we may boast just a little) and chips.
As you look over the menu, it's easy to keep your healthy vegetarian diet in mind. Beans, rice and pico de gallo are accompaniments to most dishes. And then many of the main dishes themselves offer shrimp instead of beef or chicken. Your healthy vegetarian diet is safe here!
At Acapulcos we go a step further with a vegetarian section of our menu that includes our Veggie Fiesta with a spinach enchilada, a cheese enchilada and a chili relleno. But the vegetarian diet options don't end there. Dessert, drinks and several appetizers are also meat-free!
If you're just beginning to toy with the idea of healthy vegetarian dining, the article below from the Mayo Clinic gives an excellent overview of a healthy vegetarian diet.
Vegetarian diet: How to get the best nutrition

A well-planned vegetarian diet is a healthy way to meet your nutritional needs. Find out what you need to know about a plant-based diet.

A well-planned vegetarian diet can meet the needs of people of all ages, including children, teenagers, and pregnant or breast-feeding women. The key is to be aware of your nutritional needs so that you plan a diet that meets them.

Types of vegetarian diets

When people think about a vegetarian diet, they typically think about a diet that doesn't include meat, poultry or fish. But vegetarian diets vary in what foods they include and exclude:

Lacto-vegetarian diets exclude meat, fish, poultry and eggs, as well as foods that contain them. Dairy products, such as milk, cheese, yogurt and butter, are included.
Lacto-ovo vegetarian diets exclude meat, fish and poultry, but allow dairy products and eggs.
Ovo-vegetarian diets exclude meat, poultry, seafood and dairy products, but allow eggs.
Vegan diets exclude meat, poultry, fish, eggs and dairy products — and foods that contain these products.

Some people follow a semivegetarian diet — also called a flexitarian diet — which is primarily a plant-based diet but includes meat, dairy, eggs, poultry and fish on occasion or in small quantities.

Vegetarian diet pyramid

A healthy diet takes planning, and a food pyramid can be a helpful tool. The vegetarian pyramid outlines food groups and food choices that, if eaten in the right quantities, form the foundation of a healthy vegetarian diet.

Getting adequate nutrition

The key to a healthy vegetarian diet — like any diet — is to enjoy a variety of foods. No single food can provide all the nutrients your body needs. The more restrictive your diet is, the more challenging it can be to get all the nutrients you need. A vegan diet, for example, eliminates natural food sources of vitamin B-12, as well as milk products, which are good sources of calcium.

With a little planning, however, you can be sure that your diet includes everything your body needs. [Click here to read about 8 nutrients to which you must pay special attention.] If you need help creating a vegetarian diet that's right for you, talk with your doctor and a registered dietitian.

Getting started

If you're not following a vegetarian diet but you're thinking of trying it, here are some ideas to help you get started:

Ramp up. Each week increase the number of meatless meals you already enjoy, such as spaghetti with tomato sauce or vegetable stir-fry.
Learn to substitute. Take favorite recipes and try them without meat. For example, make vegetarian chili by leaving out the ground beef and adding an extra can of black beans. Or make fajitas using extra-firm tofu rather than chicken. You may be surprised to find that many dishes require only simple substitutions.
Branch out. Scan the Internet for vegetarian menus. Buy or borrow vegetarian cookbooks. Check out ethnic restaurants to sample new vegetarian cuisines. The more variety you bring to your vegetarian diet, the more likely you'll be to meet all your nutritional needs.
If you keep in mind the Vegetarian Food Guide Pyramid above and pay special attention to the nutrients your body needs, you can thoroughly enjoy a vegetarian lifestyle!
Regardless of which particular type of vegetarian diet you follow, you'll find many healthy options to keep you on track at Acapulcos Mexican Family Restaurants throughout Massachusetts and Connecticut! Stop by any of our locations to enjoy fresh authentic Mexican goodness!