If you have ever visited Mexico, you probably know about the popularity of street vendors in this country.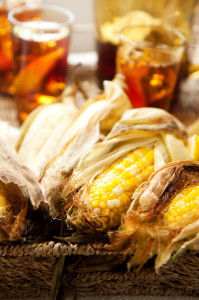 You may even recall seeing a lot people eating corn on the cob slathered in a delicious cheesy sauce. Mexican street corn (also called "elotes") is a popular Mexican street food that is easy to make at home. If you would like to learn how to make Mexican street corn at home, you have come to the right place.
In order to learn how to make Mexican street corn, you first need to gather the right ingredients. Of course, you will need sweet corn on the cob. Summertime is the best time to get fresh, succulent corn, and it can be purchased from many local farm stands as well as grocery stores.
To make Mexican street corn, be sure that you have a grill handy, as Mexican street corn is always grilled. To prepare, soak the corn for about twenty minutes to provide extra moisture to the kernels. Be sure to remove most of the husks (except for the few inner layers) before soaking. The corn should only take about 10 minutes to cook on medium heat. The husks may burn, but the kernels should not. When you make Mexican street corn on the grill, it should end up being a nice golden brown color.
Next, to truly make Mexican street corn, you will need to make the topping sauce. This includes mayonnaise, sour cream, crumbled cotija cheese (found in the Mexican section of your local grocery store), fresh cilantro, a lime, and chili powder (or cayenne pepper, depending on your preferences). When you make Mexican street corn, the measurements of these ingredients will be up to the discretion of the chef. The ratios you use will depend on whether you prefer the flavor of lime over the spice of the pepper and vice versa. Adding more sour cream than mayonnaise will help lower the fat content of this recipe, but many people prefer to taste the flavor of the mayonnaise. Combine all of the ingredients and then spread it on the corn immediately after it has been husked and removed from the grill.
Learning how to make Mexican street corn is just that simple… you now already know how to make Mexican street corn! The next time you are making a meal on the grill, show off your Mexican street corn recipe to your friends and family. You will be sure to impress.
If authentic Mexican food is what you are after, then Acapuclos Meixcan Family Restaurant & Cantina is where you want to be. We make all of our dishes with fresh ingredients daily. We would love for you to visit one of our 12 locations throughout Massachusetts and Connecticut.
Have you ever tried Mexican street corn before? What did you think of the flavor?