Margaritas are one of the most well-known Mexican drinks.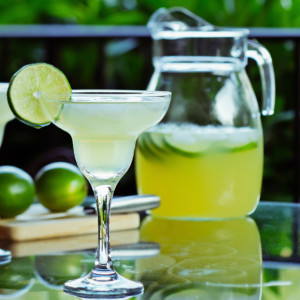 People flock to them for their variety and their ability to quickly quench any thirst with a tangy taste. Margaritas come in all colors and flavors, and a margarita can be made to match nearly any palate.
Do you ever wonder how you make a margarita? The answer is actually rather simple. Whether you are a tenured mixologist, or have never mixed a drink in your life, you can learn how to make margaritas easily. Everyone is going to make a margarita a little differently, since different bartenders prefer various types of alcohol and mixers, depending on the flavor being achieved. However, there are a few basics that you will need to know to get the base perfect every time. Let's go through these steps so you can learn how you make a margarita.
Any bartender will tell you that the most important aspect of making any drink is the count. The count is a technique that bartenders use to measure how much alcohol is poured into any given drink. A margarita is generally given equal parts tequila, orange liqueur and lime juice. Getting the pours correct is often the tricky part. Generally, bartenders count to four before they stop pouring.
When you make a margarita, it recommended that you use a silver tequila. However, if you are ordering a specialty margarita, such as a blue margarita, you can add blue curacao. As far as the orange liqueur goes, the IBA (International Bartenders Association) recommends Cointreau. However, you can also substitute it for other types of liqueur, such as Grand Marnier. And when it comes to lime juice, fresher is always better.
Once you have all three parts counted and measured, pour them into a shaker. Generally, you want to shake the margarita because it helps blend the thicker alcohol together, but you can also stir it if you are using a lighter liquor or mixer. Typically, shaking a margarita for a few seconds should be enough to mix the flavors adequately.
There are three ways to serve a margarita. The first option is "on the rocks," which essentially means that it is shaken with cubes of ice. You could also have a "frozen margarita," which means it is blended with ice. The third option is straight up, which means without any ice. Once the margarita is shaken and ready, pour it into a margarita glass. You can identify a margarita glass from other cocktail bar ware because it has a narrow stem and a wide top.
Another important part of a margarita is rimming the glass. Typically the glass is lined with salt, but some people choose to line it with sugar or something more adventurous, perhaps matching the flavors in the specialty margarita. The purpose of rimming the glass is not only to offset the taste of the alcohol a little bit, but to add a little bit of flair to the look of drink. To rim a glass, first use a lime to wet the rim so that the salt will stick. Pour the margarita salt in a shallow plate or a bowl and dip the glass into it. Then you can pour your drink into the glass.
Learning how you make a margarita can be tricky. It takes practice, especially when pouring to get the perfect ratio of alcohol. If you are looking to avoid all the work and just enjoy the perfect margarita, stop by Acapulcos Mexican Family Restaurant & Cantina and visit our friendly bartenders in one of our 12 locations across Massachusetts and Connecticut. They might even give you some tips on how to make the perfect margarita!
What was the hardest part of learning how you make margaritas? Which margarita type is your favorite?