When people hear "fish tacos" different emotions arise.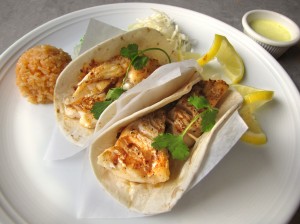 For some, the idea of fish tacos is something they want to avoid. On the other hand, many people hear "fish tacos" and their mouths begin to water; they instantly want the dish.
If you are a seafood person and you love Mexican food, then the fish taco is your answer. The mix of fresh fish wrapped in a warm tortilla, topped with salivating flavors makes the fish taco a hot ticket. The use of paprika, cilantro, avocado, lime, hot sauce, and other bursting flavors in a fish taco takes a fish dish to a new level. Not to mention, fish tacos are a great source for Omega nutrients. For the fish tacos lovers out there, we have an article from Blogspot.com that includes a recipe for grilled fish tacos that you will love.
Grilled Fish Tacos – Secret Recipe Club

Southern California is a place all its own, chaotically caffeine fueled in some places while just up the road you may find laid back surf towns with more of a Chai Tea flair.  I'm lucky enough to live in one of those simple little surf towns on the coast and my Secret Recipe Club assignment this month is my virtual neighbor.

Allie, of Allie's Clean Plate Club, is a bit north east of me and while not on my slower paced coast she is within a few hours driving distance and lives the Southern California lifestyle.  Missing her home in Illinois, she like me, originally turned up her nose at a SoCal staple… the fish taco.

When I moved from Northern California to Southern (something I said I'd never do, but now I'd never go back) I discovered In N Out and Rubio's.  In N Out was easy to immediately love with its tasty burgers, milkshakes and salty fries, but Rubio's, with the Fish Taco featured on the menu, took a while for me to try.  Venturing like an early era explorer, I eventually made my way to the restaurant and gave the taco a try.  Like Allie, the first fish taco bite was all I needed to have me hopelessly hooked.

Never having actually made my own version I jumped at the chance to try Allie's Grilled Fish Taco recipe and wholeheartedly agree that this recipe is a keeper, I only wish I had made it years ago…

Grilled Fish Tacos

Allie's Clean Plate Club

Tacos
1 pound white flaky fish, such as mahi mahi or tilapia
1/4 cup canola oil
1 lime, juiced
1 tablespoons ancho chili powder (I didn't have Ancho – subbed half regular chili powder and half Smoked Paprika)
1 jalapeno, coarsely chopped
1/4 cup chopped fresh cilantro leaves
8 flour or corn tortillas (I prefer corn for this recipe)

Garnish Suggestions

Shredded white cabbage or shredded lettuce
avocado
Hot sauce
Mexican Crema or sour cream
Thinly sliced red onion
Thinly sliced green onion
Chopped cilantro leaves
Salsa

Preheat grill to medium-high heat. Place fish in a medium size dish. Whisk together the oil, lime juice, ancho chili powder, jalapeno, and cilantro and pour over the fish. Let marinate for 15 to 20 minutes.

Remove the fish from the marinade place onto a hot grill, flesh side down. Grill the fish for 4 minutes on the first side and then flip for 30 seconds and remove. Let rest for 5 minutes then flake the fish with a fork.

Place the tortillas on the grill and grill for 20 seconds.

Divide the fish among the tortillas and garnish with any or all of the garnishes.

Liv Life Note:  We took a 1/4 cup of sour cream and mixed with 2 Tbs of Salsa and about 1/4 tsp of Smoked Paprika.  Whisk and place on tortilla before other garnishes.  Layer with your favorites, we used avocado, grilled onions, shredded lettuce, the mahi mahi and Cholula Hot Sauce.
Fish tacos bring a spice to the ordinary fish. Working with a fish taco recipe allows altering flavors to your liking. With this recipe for fish tacos you're able to add additional ingredients like peppers, guacamole, or mushrooms. If you're looking for extra nutrients in your fish tacos, try adding some of your favorite vegetables. After perfecting it a few times, you'll have a custom fish taco recipe nobody else has.
However, if you love fish tacos but aren't up to making them, any of our Acapulcos locations can help to fulfill your fish taco craving!