Chicken, pinto beans, green chilies, and other delicious ingredients all wrapped up in a tortilla, covered with sauce and smothered in cheese… who doesn't love chicken enchiladas?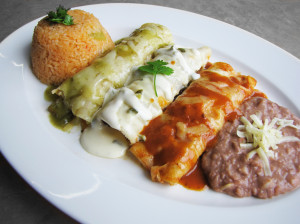 The only problem is that those frozen chicken enchiladas bought at the store don't even come close to the real thing. Luckily, we've found a way to help you say goodbye to frozen meals by teaching you the easy way to make your own chicken enchiladas.  Then you can enjoy chicken enchiladas with fresh ingredients, the way they're supposed to be.
Making your own chicken enchiladas might sound too time-consuming, but it doesn't have to be. The following recipe from Taste of Home provides an easy way to make chicken enchiladas in your own kitchen in under an hour.
Easy Chicken Enchiladas Recipe:

Prep: 20 min. Bake: 25 min.
Yield: 5 Servings

Ingredients

1 can (10 ounces) enchilada sauce, divided
4 ounces cream cheese, cubed
1-1/2 cups salsa
2 cups cubed cooked chicken
1 can (15 ounces) pinto beans, rinsed and drained
1 can (4 ounces) chopped green chilies
10 flour tortillas (6 inches)
1 cup (4 ounces) shredded Mexican cheese blend
Shredded lettuce, chopped tomato, sour cream and sliced ripe olives, optional

Directions

Spoon 1/2 cup enchilada sauce into a greased 13-in. x 9-in. baking dish. In a large saucepan, cook and stir the cream cheese and salsa over medium heat for 2-3 minutes or until blended. Stir in the chicken, beans and chilies.
Place about 1/3 cup of chicken mixture down the center of each tortilla. Roll up and place seam side down over sauce. Top with remaining enchilada sauce; sprinkle with cheese.
Cover and bake at 350° for 25-30 minutes or until heated through. Serve with lettuce, tomato, sour cream and olives if desired. Yield: 5 servings.
Now you're ready to make chicken enchiladas right at home. Feel free to add or replace the ingredients of your choosing.  That's one of the best things about making your own chicken enchiladas; you can have them exactly the way you want. You can add hot peppers for an extra kick, or avoid them if you prefer. Serve your own homemade chicken enchiladas the next time you have some friends over and you will be sure to impress.
If you are craving chicken enchiladas and don't feel ready to make them yourself, visit Acapulcos Mexican Family Restaurant & Cantina at one of our Massachusetts or Connecticut locations. We serve a variety of enchiladas, some served with chicken, some not.  We're sure to have an enchilada for every preference.
Have you ever tried to make chicken enchiladas before? What is your favorite type of enchilada? We'd love you to tell us more in the comment section below.