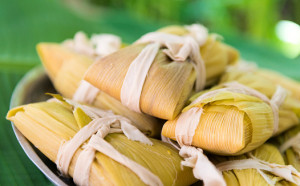 Tamales are one of those quintessential Hispanic foods that can really tie any meal together. It is why here at Acapulcos we offer tamales on two of our combo plates (the Tijuana Combination and Combo Nogales). Although they take time to prepare, tamales are a great addition to many meals.
The tamale's origin traces back to ancient time, originating somewhere between 7000 BC and 5000 BC in what is now Colombia. The Azetcs, Mayans, and Incans were all fighting each other in a brutal war. Like most wars, only the men were allowed to fight, but women were present as cooks. They initially made tortillas, meats, stews, and more but they eventually needed their food to be more portable. The women put their heads together and eventually came up with the tamale, a food that could be made ahead of time and warmed up when ready to eat.
Soon many people were eating tamales and they have made their way into modern culture. Today there are many different derivations of the dish, including plain, chocolate, frog, fish, tadpole, mushroom, gopher, bee, ox, and more. You can try to make all the different types, but today we will be focusing on the Green Chile Chicken Tamale.
If you want to try your luck at preparing this historic Hispanic dish, here is a chicken tamale recipe courtesy of epicurious.com.
Chicken Tamale Recipe
Ingredients

Filling

1 8-ounce package dried corn husks

1 pound tomatillos, husked, rinsed

4 3-inch-long serrano chiles, stemmed, chopped

4 large garlic cloves, chopped

1 and 1/2 tablespoons olive oil

2 cups low-salt chicken broth

4 cups (packed) coarsely shredded cooked chicken (about 1 pound; from purchased rotisserie chicken) 2/3 cup chopped fresh cilantro

Dough

1 1/3 cups lard or solid vegetable shortening

1 1/2 teaspoons salt (omit if masa mixture contains salt)

1 1/2 teaspoons baking powder (omit if masa mixture contains baking powder)

4 cups freshly ground masa dough for tamales (34 to 36 ounces), or make masa dough with 31/2 cups masa harina (corn tortilla mix; about 17 ounces) mixed with 2 1/4 cups warm water

2 cups (about) low-salt chicken broth

Preparation

Fillings

Put husks in large pot or bowl and add water to cover. Put heavy plate on husks to keep submerged. Let husks stand until soften, turning occasionally, for at least 3 hours and up to 1 day.

Then preheat the broiler. Line a heavy baking sheet with foil and arrange tomatillos on this sheet. Broil until tomatillos blacken in spots, turning once, about 5 minutes per side. Transfer tomatillos and any juices on sheet to processor and cool. Add chiles and garlic to processor and blend until smooth puree forms. Heat oil in medium saucepan over medium-high heat. Add tomatillo puree and boil 5 minutes, stirring often. Add broth. Reduce heat to medium; simmer until sauce coats spoon thickly and is reduced to 1 cup, stirring occasionally, about 40 minutes. Season with salt. Mix in chicken and cilantro. (Can be made 1 day ahead. Cover and chill.)

Dough

Using an electric mixer, beat lard (with salt and baking powder, if using) in large bowl until it is fluffy. Beat in fresh masa or masa harina mixture in 4 additions. Reduce speed to low and gradually beat in 1 1/2 cups broth, forming tender dough. If dough seems firm, beat in enough broth, 2 tablespoons at a time, to soften.

Fill bottom of pot with steamer insert with enough water (about 2 inches) to reach bottom of insert. Line bottom of insert with softened corn husks. Tear 3 large husks into 1/4-inch-wide strips to use as ties and set aside. Open 2 large husks on work surface. Spread 1/4 cup dough in 4-inch square in center of each, leaving 2- to 3-inch plain border at narrow end of husk. Spoon heaping tablespoon filling in strip down center of each dough square. Fold long sides of husk and dough over filling to cover. Fold up narrow end of husk. Tie folded portion with strip of husk to secure, leaving wide end of tamale open. Stand tamales in steamer basket. Repeat with more husks, dough, and filling until all filling has been used. If necessary to keep tamales upright in steamer, insert pieces of crumpled foil between them.

Bring water in pot to boil. Cover pot and steam tamales until dough is firm to touch and separates easily from husk, adding more water to pot as necessary, about 45 minutes. Let stand 10 minutes. (Can be made 2 days ahead. Cool 1 hour. Cover and chill. Before serving, re-steam tamales until hot, about 35 minutes.)
So that's how you make Green Chile Chicken Tamales! If this sounds like fun, and/or you want to cook other traditional Hispanic dishes, check out our blog. If this seems like a lot of work, swing by Acapulcos Mexican Family Restaurant & Cantina in one of our many locations across Massachusetts and Connecticut!