What is commonly thought of today as traditional Mexican décor began in the 18th century in and around Mexico, Central America as well as the North American Southwest.  Mexican décor encompasses practical designs and patterns in a rustic manner, and these decorations are widely used in Mexico to this day. The colors, designs and furnishings blend well and create a warm inviting space full of energy. Mexican décor reflects the resources available to the indigenous people in Mexico during the 18th century, with much of it considered folk art.
Colors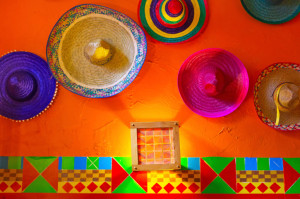 Mexican décor typically uses earth colors like browns, dull reds, pinks, and tans in order to contrast with the secondary colors which are much brighter and vibrant. The earth colors reflect Mexican landscapes as well as materials like stone, wood, and clay. Mexican décor often utilizes accent walls which are bright, primary colors to contrast the earthy tones.
Materials
Materials used in Mexican décor can vary a great amount depending on the budget or particular room. The most prominent materials are wood and clay; the clay is usually painted and the wood can be left unfinished, stained or painted a bright color. For decorations such as draperies and linens, a rough wool or cotton is commonly used.
Furniture
Typical furniture used in Mexican décor usually consists of heavy wooden panels combined with details made from dark metal in order to contrast the light wood tone. Pine is also popular, although the country style homes sometimes use rougher reclaimed wood.
Decorative Pieces
Mexican décor uses decorative objects such as clay pots, wall hangings, ceramic figurines or anything else that can be easily hung, placed on a table, shelf, or any other surface. Many of these items are painted with geometric patterns and use vibrant colors or are painted to reflect patterns or images of skeletons, which is an important theme for Mexico's Day of the Dead.
So the next time you go into a Mexican restaurant or a home with Mexican décor, take the time to observe and appreciate the culture enriched colors and designs. Some people may find it tacky or a bit loud, but it is actually extremely artistic and steeped in tradition. If you have yet to experience this bit of Mexican culture, come visit Acapulco's Mexican Family Restaurant and see for yourself. Our authentic Mexican décor combined with a hospitable staff and food made with traditional Mexican ingredients will exceed all expectations. Come visit one of our many locations in Massachusetts or Connecticut today.
Is there a room in your own house which could use a little more brightening through Mexican décor?