Would you like to learn how to make taquitos?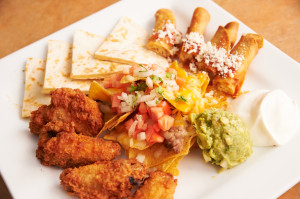 Then look no further. And no, we're not talking about the type of taquitos that you take out of your freezer and pop in the microwave. Real, homemade taquitos are so much better.
Taquitos are a popular Mexican appetizer, typically stuffed with chicken and cheese, but can also be made with other types of meat or potatoes. Many people confuse taquitos with flautas. The main difference between the two is that taquitos are made with corn tortillas, while flautas are made with flour.
Most taquitos are deep fried. However, if you don't have a frialator, you can easily achieve a similar texture by cooking them on a griddle. You could also choose to cook the taquitos in the oven, since it is a healthier option because you don't need to use oil. If you do choose to bake them, you'll want to preheat the oven to 425°.
First, prepare your meat or potatoes so that they are fully cooked. You can add your favorite Mexican spices such as cumin, paprika, garlic powder, and black pepper with your meat or potatoes to give the taquitos more flavor. Sautéed onions also go great in taquitos.
Next, place your filling in a straight line towards the edge of the corn tortilla. Top with cheese (Mexican blend) before tightly rolling into a tube shape. If your tortillas are too firm, you may want to stick them in the microwave for ten seconds to make them more pliable. Use a toothpick to hold the taquito together. Repeat with the remaining tortillas.
If you are going to bake the taquitos, place them on a lined baking sheet and bake for 15 to 20 minutes, until the outsides are golden brown.
If you are grilling the taquitos, pour a tablespoon of vegetable oil onto the griddle and then drop the taquitos on once it is hot. (A great way to test if the oil has heated up is to put a drop of water in the oil. If it sizzles, then it's ready for cooking.) Cook one side until the outside is golden brown and then flip and grill the other side.
Top with more cheese and serve with your favorite toppings, such as shredded lettuce, guacamole, and sour cream. Taquitos are best eaten right after they are done cooking.
If you'd prefer to let someone else do the cooking, we at Acapuclos Mexican Family Restaurant & Cantina would be happy to serve you any of our authentic Mexican dishes. Our taquitos bites are a popular appetizer and we serve them with fresh lettuce, tomatoes, sour cream, guacamole, and Parmesan cheese. Visit one of our 12 locations throughout Massachusetts and Connecticut to taste them for yourself!
Have you ever tasted traditional Mexican taquitos?