Cinco de Mayo is fast approaching and, for some of you, that means an excuse to party. However, many people don't actually know what the day of celebration is all about.  Often, people believe that Cinco de Mayo is a sort of Mexican Independence Day. In fact, it is a celebration of the Mexican army's unlikely victory over French forces at the Battle of Puebla in 1862.
Still, the day is known and celebrated across the US as a celebration of Mexican heritage and pride.  So even if you have no clue why people celebrate Cinco de Mayo, feel free to party anyway. 
Here's a list of some fun tips and ideas for hosting your own Cinco de Mayo party!
1) Mini Piñatas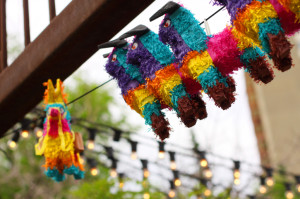 Every good theme party needs some rocking decorations.  This mini piñata diy  from Oh Happy Day makes for a great "goodie bag" or table decoration. Get creative and display them throughout the party!
(The instructions are great because they have pictures accompanying most of the steps.)
 There's another tutorial for Cinco de Mayo dancing girls here if donkeys aren't your favorite.
2) 15 Cinco de Mayo Recipes
Over at Kitchen Meets Girl, you can find 15 delicious recipes for foods to serve at your Cinco de Mayo party—everything from tamale pie to sopapillas.  Definitely try the five-minute salsa and hot Mexican style spinach dip!
3) Ginger-Plum Sangria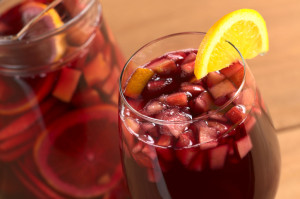 If you're tired of the traditional margarita and want something a little more exotic for your Cinco de Mayo celebration, definitely check out this recipe from Camille Styles.  Sangria is perfect for a large party because you can whip it up in large batches, and this ginger-plum version is sure to make your party stand out.
4) Piñata Cookies
If you haven't gotten enough piñatas at your Cinco de Mayo celebration with the mini piñata diy mentioned earlier, maybe you should try these delicious piñata cookies from She Knows.  Just make sure to prep the day before, as the dough needs to sit in the freezer overnight.
5) Free Printable Decorations
From photobooth props and paper garlands to a cupcake recipe with printable chevron flags, The Tomkat Studio has a great collection of 12 Cinco de Mayo printables that can help make decorating for your party a little easier and a little cheaper so you can focus on more important things, like the food and drinks!
Whatever your plans for Cinco de May—attending a party or hosting your own—these recipes and DIY crafts can spice up any Cinco de Mayo celebration.  And if you don't feel like celebrating at home, consider visiting one of Acapulcos Mexican Family Restaurant and Cantina's 12 locations throughout Massachusetts and Connecticut. Each year we have exciting festivities planned for Cinco de Mayo, including a special drink and food menu. Or, you could stop by anytime for an authentic margarita! We have an array of margarita varieties to choose from.