Tropical fruits are abundant in Mexico, which is a great benefit that allows for so many delicious traditional meals to hail from that country.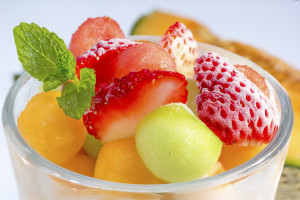 One dish that accents these fruits is called escamocha. Not only is escamocha bursting with flavor, but it's actually a rather healthy dessert!
To make escamocha, you will need to buy some of your favorite tropical fruits. Typically, this includes kiwis, bananas, pineapples, apples, strawberries, mangos, watermelons, cantaloupes, grapes, and papaya. Any combination these will work, depending on what you can access at your local grocery store.
Dice all of the fruit into one inch cubes, and set them aside in a large bowl.
Next, you'll want to make the juice portion of the dessert. You can either use store-bought orange juice, or make your own by juicing your own oranges and putting it in the blender. For a really great taste, combine the orange juice with cubes of papaya and blend until the mixture is smooth.
Pour this juice mixture into the large bowl with the fruit and stir until well combined.
Add ¼ cup of salt to help bring out the flavors of the individual fruits, and ½ cup of sugar to sweeten it.
Many recipes will also call for condensed milk to give the escamocha a creamy texture, although this will add more calories to your recipe. If you are using the condensed milk, pour it along the sides of the serving glass so that it does not combine with the entire drink, but coats the inside of the glass equally.
Allow the escamocha to sit before serving so that the flavors combine. Serve over ice in a glass and garnish with fruit. You can drink it like a sangria or eat it with a spoon.
If you love authentic Mexican food, then you will love Acapulcos Mexican Family Restaurant and Cantina. We have a number of dishes that incorporate both tropical fruits and other traditional Mexican ingredients. We invite you to visit one of our locations throughout Massachusetts and Connecticut today!