When people think of Mexican food, one of the first foods that come to mind is the taco.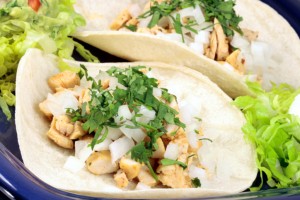 The taco has been part of Mexican culture for years and is one of the most popular Mexican dishes to cross the border into the United States. For the gluten-free crowd out there the taco has come to your plate once again.
This article below from the Gluten-free Goddess blog includes a recipe for a lime chicken soft taco, perfect for anyone who has to or who chooses to live gluten free.
Lime Chicken Taco Fun

Grilling season is upon us. But don't you worry sweetcakes. This particular gluten-free goddess is not going to waste a heartbeat lamenting hot dog buns. And I'm not going to spend hours in the kitchen trying to replicate hamburger rolls, that even in their wheat loaded incarnation were more of a starchy dry-as-dirt nuisance. Something invented to hold the all fixins' together, but that, when push came to shove, I ended up tearing off piece by piece, peeling around the edges to get to the good stuff.

This was ages before the California In N Out protein style burger was invented (which was, in my humble, wheat-free opinion, sheer, utter low carb genius). Who knew a burger wrapped in lettuce leaves would be so darn tasty? But I digress. Let's get back to the barbecue question.

Are you going to pine for long lost spongy buns?

Or are you going to choose a different path? A lip-smacking New Mexican inspired path. A lime infused roll your own tortilla path. That's right, I'm talking lime chicken tacos.
Everyone likes to roll their own soft tacos and fajitas. So grill up some garlicky lime drenched chicken and assemble all the fixin's for an outdoor barbecue fiesta. You won't miss the buns.
Taco Night at Casa Allrich means plenty of fresh limes, garlic and yes, tequilla. Los Lobos in the CD player. Long meandering conversations about the best margaritas in Santa Fe, coyotes on the mesa, Val Kilmer (have you seen him as the weed growing sherpa on Entourage?) and his off set affection for the The Pink Adobe, the lure of living off the grid like Campbell Scott's indie Off the Map, Georgia O'Keeffe's penchant for garlic sandwiches, Zen, and daily walks, and Mabel Dodge Luhan's Winter in Taos.

Not to mention, Jim Harrison (who winds up in almost every conversation I have these days).

Lime Chicken Tacos Recipe

I like to marinate the chicken overnight. But if you only have an hour or two- go for it. Marinate, kick back and sip a margarita with someone you love.

Ingredients:

For the marinade:

• 4 split organic free-range chicken breasts (boneless saves time)
• 4 cloves of fresh garlic, chopped
• 1/4 cup fresh squeezed lime juice
• 1/4 cup extra virgin olive oil
• 2 teaspoons agave
• A pinch of cumin, to taste- or some chopped cilantro, if you like
• Fresh ground pepper

For the taco fixin's:

• 4 vine-ripe tomatoes, chopped
• 2 cups shredded Romaine lettuce
• 1 cup shredded sharp Cheddar, Jack or dairy-free cheese
• 8-10 fresh and soft white corn tortillas (Mission are gluten-free)
• 3-4 fresh limes cut into wedges

Instructions:

Rinse the chicken briefly in cold water and pat dry. Place in a shallow glass or non-reactive dish.

In a small bowl combine the garlic, lime juice, olive oil, agave, cumin and fresh ground pepper. Pour the marinade over and under the chicken breasts. Cover tightly and marinate for at least an hour; overnight is even better.

When the grill is hot, remove the chicken from the dish and discard the marinade.

Grill the chicken over medium-high heat until it is cooked through and is no longer pink inside- about 12 to 15 minutes.

Assemble and ready your remaining taco fixin's.

Place the cooked chicken on a clean cutting board and slice thin.

Serve your tacos at a room temperature, if pliable and very fresh; or heat them gently. Here's what I do.

In a clean skillet or griddle, heat a scant amount of olive oil and briefly heat the white corn tortillas one or two at a time, coating them with just a scant amount of oil to soften them; remove to a tortilla warmer lined with a clean, warm towel.
Have everyone assemble their own tacos.

Serves 4.
The taco is a Mexican icon that has spread across the world. And its popularity is understandable. The taco offers beef, chicken, or fish with Mexican spices in a perfectly sized hand-held shell or tortilla. Luckily, gluten-free Mexican foods include much more than tacos. Any gluten-free food you want can potentially be found on the web. Gluten-free Goddess also offers more Mexican recipes that are gluten-free.
Much of Mexican food is, by nature, gluten-free.  If you specifically need gluten-free foods when dining with us at Ixtapa Mexican Restaurant & Cantina, please ask your server. We have three Massachusetts locations for you to choose from — Lexington, Lunenburg & Woburn — and are always happy to be of service.