The origin of the fajita is traced back to the Rio Grande Valley in Texas during the 1930s. Fajitas were created by Mexican ranch workers who received skirt stake as part of their pay. They would cook the skirt steak on a fire or grill, then wrap it in a flour tortilla.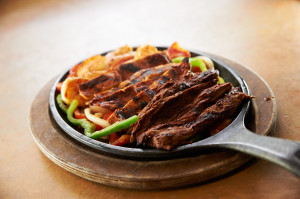 Fajitas got their name from the Spanish word Faja, which translates to "belt" or "girdle," referring to the part of the cow where skirt steak comes from. Now, fajitas can be made with other cuts of meat, such as flank steak.
The fajita became more popular in 1969, when the first commercial fajita taco stand opened at a weekend celebration in Kyle, Texas. These stands were found at rodeos, outdoor fairs, and festivals all around Texas through the 1980s. Also in 1969, the fajita was first introduced on a menu at the Round-Up Restaurant in the birth place of the fajita, the Rio Grande Valley.
If you're interested in making this delicious meal at home, below is a recipe from Simply Recipes for you to try. The prep time takes about 1 hour and 10 minutes, and the cook time takes 15 minutes.
INGREDIENTS

1 Tbsp vegetable oil

1 lb of flank steak, skirt steak or carne asada

1 large yellow onion, peeled and sliced with the grain, not against the grain as one would normally slice an onion. Slice first in half, and then slice off sections a half inch wide at widest point.

2-3 bell peppers of various colors, stemmed, seeded, de-ribbed, sliced lengthwise into strips

Salt

Marinade:

Juice of 1 lime

2 Tablespoons of olive oil

2 cloves garlic, peeled, minced

1/2 teaspoon ground cumin

1/2 fresh Jalapeño pepper, seeded, ribs removed, finely chopped (be careful not to touch your eyes or anywhere near your eyes after handling a Jalapeño pepper!)

1/4 cup chopped fresh cilantro, including stems

METHOD

Mix all marinade ingredients. Coat the steak with the marinade and let it sit at room temperature for an hour, or longer in the fridge. Before you cook the meat, wipe off most of the marinade and sprinkle the steak with salt.

Set a large cast iron pan or griddle over high heat and let this heat up for 1-2 minutes. Add the tablespoon of oil to the pan and let this heat up for 1 minute. Add the steak, frying on each side for 3 minutes, or to desired doneness. 3 minutes per side will yield approximately medium rare doneness for an average cut of flank steak. Carne asada and skirt steak will need less time. If the pan starts to smoke too much, reduce the heat to medium-high. You want the steak browned, not burned. Remove from pan and let sit, tented with foil, for 5 minutes.

Cook the vegetables while the meat is resting. Add a little more oil to the pan if necessary, then add the onions and bell peppers. Let these sear for 1 minute before stirring, then stir every 90 seconds or so as the veggies sear. Cook for 5-6 minutes total.

Slice the meat against the grain into thin slices. If you slice the meat at an angle, you will be able to get your slices pretty thin. These cuts of steak are flavorful but can be a little tough, so thin slices will really help make it easier to eat.

Yield: Serves 4.
Now that you know how to make fajitas, you can cook them for any occasion. They would be great for your next family dinner, or double the recipe and make them for a larger dinner party. While this recipe calls for steak, you can substitute it with chicken, shrimp, or just veggies if you prefer it vegetarian style.
If you're not in the mood to conquer the homemade fajitas quite yet, then come to Acapulcos Mexican Family Restaurant & Cantina. We serve authentic Mexican food, and our sizzling hot fajitas are some of the best around. Stop by our locations in Massachusetts and Connecticut to try them today.