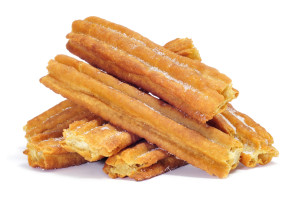 It's not really clear where exactly churros came from. The most common theory is that the Portuguese brought them to Europe from their trading trips to the orient. However, it's also believed the Ming dynasty passed a law that sharing the secrets of the churros ways with foreigners was an offense punishable by death. Somehow the Portuguese were able to replicate the generally idea but never learned the Chinese technique for "pulling the dough." Instead, they mold their churros in a star shape which is often seen today.
Authentic Mexican Churros Recipe
Whether it was the Portuguese via the Chinese or some malcontent Spanish shepherd on the backside of a mountain somewhere (as some claim), we are grateful for the invention of the churros. These little fried snacks are simply delicious. They can be had for breakfast or enjoyed as a snack after a meal.
The original recipe is from allrecipes.com.
Ingredients
1 cup water
2 1/2 tablespoons white sugar
1/2 teaspoon salt
2 tablespoons vegetable oil
1 cup all-purpose flour
2 quarts oil for frying
1/2 cup white sugar, or to taste
Directions
In a small saucepan over medium heat, combine water, 2 1/2 tablespoons sugar, salt and 2 tablespoons vegetable oil. Bring to a boil and remove from heat. Stir in flour until mixture forms a ball.
Heat oil for frying in deep-fryer or deep skillet to 375 degrees F (190 degrees C). Pipe strips of dough into hot oil using a pastry bag. Fry until golden; drain on paper towels.
Combine 1/2 cup sugar and cinnamon. Roll drained churros in cinnamon and sugar mixture.
Banana Churros Recipe
With churros holding a place in the heart of bakers in Spain, France, the Philippines, Southwest United States and many other places, they have seen many variations and adaptations. Here is another delicious version of the churros, perfect for a banana lover.
Ingredients   
1⁄4 cup water
2 ounces butter (1/4 cup)
3⁄4 cup milk
2 cups all-purpose flour
1 teaspoon baking powder
2 eggs
1 very ripe banana, mashed
oil
3 tablespoons sugar
1⁄2-1 teaspoon ground cinnamon
Directions
Bring the water, butter and milk to a boil. Add the flour and baking powder, stirring rapidly until a soft ball is formed and dough pulls away from the sides of the pan.
With an electric mixer, beat in the eggs one at a time and then add the banana.
Allow to cool for a few minutes and pipe into 2 – 4 inch tubes with a pastry bag filled with a star tip.
Fry in 350°F oil until golden brown.
Combine the cinnamon and sugar or if you would like more of a pronounced banana flavor use plain granulated sugar.
While the churros are still warm, dust with cinnamon sugar.
Next time you want a treat for breakfast or a snack which will make you forget your own name, try one of these churros recipes. Or if you want a fresh, authentic Mexican meal and don't feel like cooking, you can check out our menus at Acapulcos Mexican Family Restaurant and Cantina. We have many locations throughout Massachusetts and Connecticut, serving churros, authentic Mexican dishes and margaritas. Check out our locations and find an Acapulcos Restaurant near you.