Find four new favorite recipes for standout Mexican dips in this tasty breakdown.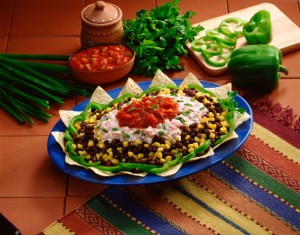 Hold onto your bag of tortilla chips. We're introducing four flavorful additions to your recipe box that are worth getting excited about. Cheesy, with plenty of fresh vegetables to keep you on track with your new year's resolution (somewhat).
First up is a Smoky Five-Pepper Cheese Dip, a bold variation on a classic with fresh chiles and chipotle flavor. Next, these Mini Taco Dip Tostadas with Avocado Cream are right up there on our list of appetizer stars; just reading its name makes our mouths water. The happiest cheese dip we've come across – Queso Fundido with Chorizo, from Smells Like Home – is sure to satisfy your cravings. Anything with melted cheese just has to be good, right?
In our featured Mexican dip recipe below, black bean dip gets an upgrade by adding a special sweet corn guacamole on top. This healthier-than-it-seems dip recipe is brought to you courtesy of Kristin at Iowa Girl Eats.
Black Bean and Sweet Corn Guacamole Dip

Ingredients

1 vine-ripened tomato, seeded and chopped
1/2 cup crumbled Cotija cheese (could use feta or shredded Monterey Jack)

For the Black Bean Dip:

1-15oz can seasoned black beans OR 1 regular black beans, drained and rinsed
1/4 cup chopped onion or shallot
1/2 jalapeno, seeded and chopped
1 garlic clove, chopped
2 Tablespoons chopped cilantro
juice of 1/2 lime
1/4 teaspoon cumin
salt and pepper

For the Sweet Corn Guacamole:

2 ripe avocados
juice of 1/2 lime
1 garlic clove, microplaned or minced
salt and pepper
3/4 cup frozen sweet corn, thawed
2 Tablespoons chopped cilantro

Directions

Combine ingredients for the black bean dip in a food processor the process until smooth, scraping down sides as needed. Taste and add more salt and pepper if necessary. Smooth into the bottom of a 9″ pie pan then place into the refrigerator while making Sweet Corn Guacamole.
Add avocados, lime juice, garlic, salt, and pepper to a large bowl then mash until smooth. Taste and add more salt and pepper if necessary. Fold in thawed sweet corn and cilantro then smooth on top of the black bean dip. Sprinkle on chopped tomatoes and crumbled Cotija cheese then serve with tortilla chips and crudite.
Looking for more Mexican recipes for your next party or family night? Check out our blog archive chock full of appetizing gems. Bring the whole family to Acapulcos Mexican Restaurant for a real treat! View our menus for the Greater Boston area, Cape Cod, Enfield and Stratford, CT.
Happy dipping!