Every year, on the fifth of May, both Mexicans and Americans celebrate the holiday that has been dubbed Cinco de Mayo.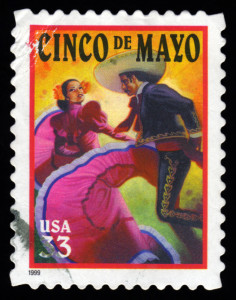 Cinco de Mayo means, quite literally, "the fifth of May" in Spanish. But why do we celebrate this holiday? It is known that there are many festivities in both countries, but both places celebrate it quite differently. Here is a history of why, and how, we celebrate Cinco de Mayo.
History
Cinco de Mayo commemorates the Mexican army's 1862 victory over France at the Battle of Puebla during the Franco-Mexican war, which lasted from 1861 to 1867. At the time, France was ruled by Napoleon III and Mexico had Benito Juárez as their president. Troops from France, along with Britain and Spain, came over to Mexico to demand reimbursement of money that the Mexican government owed them. During this time, France, under General Charles Latrille de Lorencez, and 6,000 troops descended on the small village of Puebla. Mexican General Ignacio Zaragoza got 2,000 troops together to face them; nearly 1/3 less than their assaulters. This battle lasted from sun-up to sun-down, and ended with the loss of 500 French soldiers and only 100 Mexican soldiers, so it was considered a big win for the Mexican army. They didn't officially defeat the French until six years later in 1867, but the Battle of Puebla was considered a major turning point in the war. Many people mistake Cinco de Mayo for being Mexico's Independence Day, but that was in fact 50 years earlier on September 16, 1810.
Cinco de Mayo in Mexico
Because of this major turning point, Cinco de Mayo has celebrated ever since. However, it is not celebrated to the extent that America has. In fact, it is not even a national holiday, and is mainly celebrated only in Puebla. Ever since the 1860s, Cinco de Mayo celebrations have been more popular with Mexican-Americans looking to honor this turning point in the Franco-Mexican war.
Cinco de Mayo in America
In America, Cinco de Mayo is celebrated all over the country. However, most people do not know the origin and history behind it. Typically, it is a day to celebrate Mexican heritage and culture, rather than the Battle of Puebla. Cinco de Mayo has become a bigger celebration in the United States than in Mexico, and is often celebrated with many Mexican-style drinks, food, and mariachi music.
If you would like to celebrate Cinco de Mayo at an authentic Mexican restaurant, visit one of the Acapulcos Mexican Family Restaurant locations throughout Massachusetts and Connecticut. We would love to have you.